By Jacob Devaney
Fire is technology. We can use it to warm our food and our home or to burn down our neighborhood. It's all a matter of how we choose to use – or abuse – resources. The Pentagon recently agreed to honor contracts with a lifetime cost of roughly $1.5 trillion for the F-35 Lighting Joint Strike Fighter program, despite numerous technical concerns, for the purpose of destroying or dominating our enemies du jour –and the planet, and our economy, alongside them. At the same time, and for a fraction of that amount, a civilian digital technology recently launched with the purpose of connecting people around the world for the sake of creating and nurturing peace: The Global Peace Map.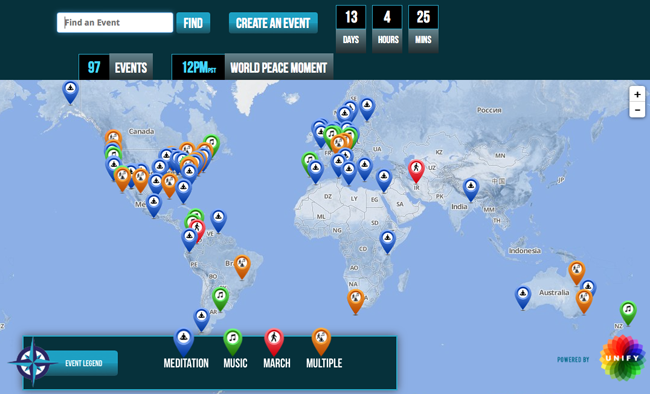 The Global Peace Map, powered by Unify in collaboration with many other organizations and individuals, is an embeddable platform that connects peacemakers and positive peace (unarmed, nonviolent) events around the world. The map automatically adjusts to your time zone and allows you to zoom and scroll across the planet to see all the different places in which people are calling or demonstrating for peace in our war-weary world.
This emergent technological dream has been created through contributions of intelligence and funds from many peace organizations and individuals. Anyone with Internet access is empowered to populate the map by creating a local event for the International Day of Peace, this Sept. 21. This globally crowd-sourced, unified and interactive tool for peace is unprecedented technology designed and used for good, constructive change–and expressing the growing will of civil society everywhere for peace.
The United Nations has declared the theme of this year's International Day of Peace, also the 30th anniversary of the General Assembly's declaration of the day's intention, as the "Right of Peoples to Peace." The UN has recognized that peace is a prerequisite of realizing human rights around the world, and it is within our potential as human beings to build positive peace. The Global Map is one way technology is helping us harness this potential. Social media is, as well. Participants of local events on Sept. 21, are encouraged to take pictures and share them to social media networks with the hashtag #PeaceDay. There is also a Facebook Event Page for a globally synchronized meditation with already more than 20,000 participants.
If you are reading this online, then you are engaging with some of the most complex technology in the history of the planet: the Internet. You are literally reading light as it is interpreted through complex networks and computer chips to relay ideas and feelings around the world. All of the technology in the world of humans was born from within us and is a reflection of our potential. Will we use it as the fire to keep us warm or will we let it burn down all that we cherish in this life?
Jacob Devaney (@5cloudsdancing), syndicated by PeaceVoice, is the founder and Director of Culture Collective and a contributing blogger for Huffington Post.